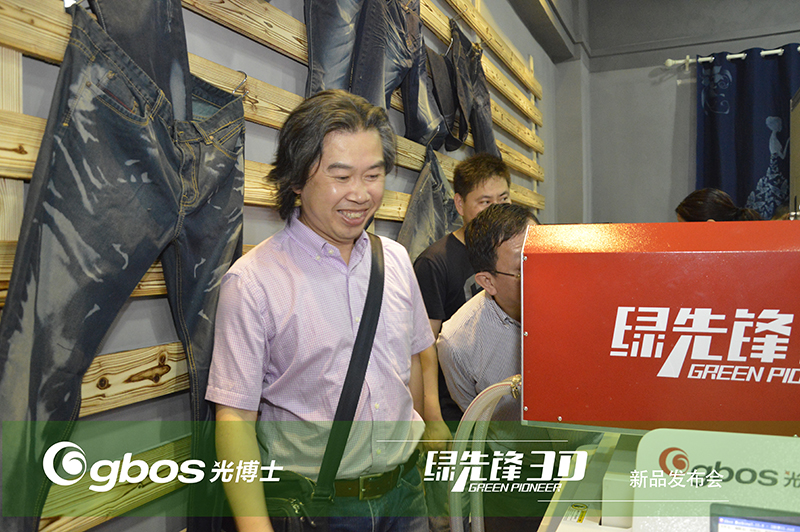 On May 6, 2015, the Green Pioneer 3D Environmental Laser Jeans Washing System Press Conference was held in GBOS factory. There were over 80 people attending the conference, which included representatives from jeans manufactures in Pearl River Delta, Jiangsu, Zhejiang, and Fujian such as Zengzhi, Conshing, Everstar, Ligao, etc., people form Guangzhou Sewing Equipment Chamber of Commerce, Junan Textile Chamber of Commerce, Xintang Chamber of Commerce and other associations as well as major media such as the central, provincial and municipal television stations. With the theme of "make the water clean together with GBOS", the conference was held in the Jeans Washing Center of the factory, no high-end, classy, high-grade magnificence or dazzling light. The simple and plain Jeans Washing Center equipped only with a projector, dozens of chairs and several big equipments just showed GBOS Laser's culture of practicality and dedication.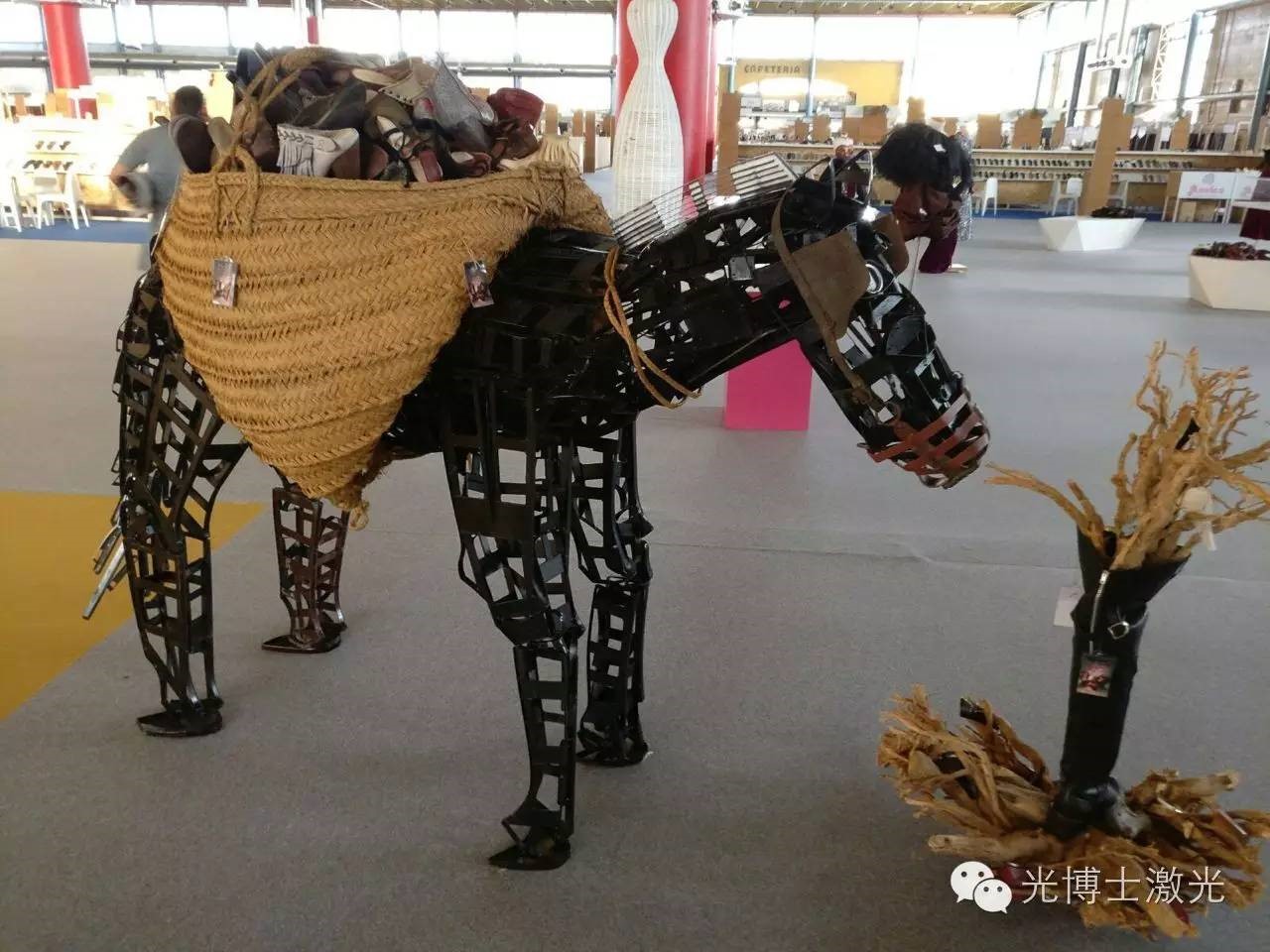 Making the water clean was an environmental dream, for which the GBOS Laser-Green Pioneer 3D Environmental Laser Jeans Washing System Press Conference was held. According to a report from Times in USA, an American renowned jeans company has made an assessment for the resources of one type of jeans it produced and the result is astonishing: jeans are almost made of water. A pair of jeans needs about 2.48 tons of water and a large quantity of auxiliary chemicals, which are likely to cause great water loss and serious environmental problems. In addition, some relevant statistics show that a jeans washing company with about 60 employees will use as much as 2000 to 3000 tons of water one day, which is very shocking.
Besides low efficiency and non-uniform appearance, traditional washing also has unstable quality, large labor, time and water consumption, and needs various chemicals, which bring serious harm to the employee's health and environment. With advanced laser processing and in the principle of laser beam radiation, the surface of jeans, garment fabric and other materials will be marked to have graphics designed with computer. The fully-automatic laser "washing" process is completed one time without adding water or similar materials, which avoids water pollution. Besides, it needs no expensive purifier and skipped the addition of chemicals, which guarantees the health of operators. In term of efficiency, the cat beard, which could be completed in about 10 seconds, takes about 1.5 minutes for traditional washing. In term of energy saving, laser washing needs only 10 liters of water for each pair of jeans while the traditional washing needs 60 liters.
On the other hand, processing the denim fabric with laser could have layered graphics with different depths on the fabric with the same color, which reveals a unique, natural and plain style. Laser marking is available at different positions of the fabrics and the graphics will have various shapes and positions. Some complex shapes, such as images, cat bear, monkeys, flows, grids, letters, strips, camouflage, graduation, etc. are also available. Compared with traditional washing, after laser washing, full cotton denim fabrics have a better performance with reduced K/S over 70%, and neither obvious difference between mechanical and corrosion-resistance performance after the washing nor new materials are found, which caters to the green and environmental concepts. Besides, 1 man could operate 4 machines and it needs only 40 people to finish 80% of the processes of a 200-employee jeans washing factory adopting traditional washing, which means, after replacing with the machine, only 20% of the employees and some managers are enough to operate the former factory.
Based on its corporate social responsibility for the environment, Green Pioneer 3D Environmental Laser Jeans Washing System is designed to replace traditional washing process such as hand brush, spray stone wash, and monkey wash manually operated in the traditional processing of jeans. It has better performance with no water needed, simplifies the processing and improves the added value of product. The biggest advantage of Green Pioneer is that it can realize the simulated 3D washing of jeans and simulation of 3D human body is available by air inflation after putting the jeans on the mannequin. Green Pioneer 3D Environmental Laser Jeans Washing System is the first in this field in China with much more advanced technology and GBOS is the only company having the ability to provide 3D laser washing technology in Asia.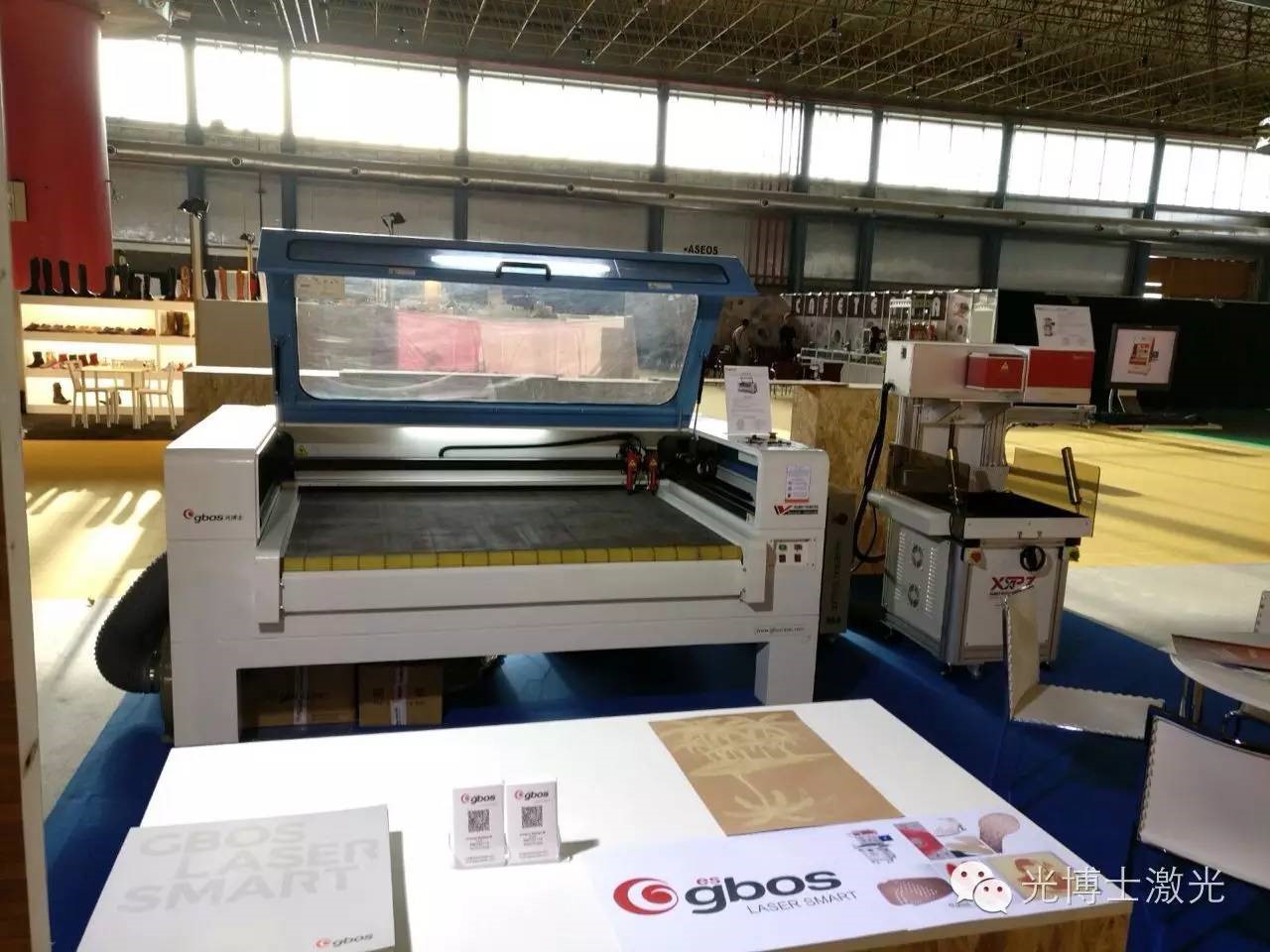 The environmental, high-efficiency, healthy and energy-saving features of Green Pioneer 3D have excited the enterprises attending the conference and arouse their interests. GBOS has a long way to go to perform its environmental obligations and would like to make its own contributions.