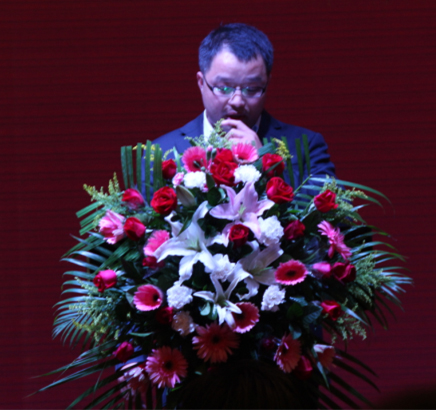 Dear Honorable leaders, guests, media friends, GBOS members and my classmates, Good evening!
With ten years experience of facing difficulties, ten years joining hands and development, Gbos has made its great glory and achievement. Today, I feel very excited to celebrate GBOS 10 years anniversary with all of you.
Now, I am here on behalf of Gbos to express our warmest welcome and sincerest appreciation to all the attending honorable guests.
For these 10 years, we have been developing and growing up through"Nothing to existence, and existence to excellent",Now we have owned more than 20 patents and also got the honor of becoming the new high-tech enterprise, Furthermore, we have created plenty of industrial-leading products, which witness our decades of effort and sweat. 
All these efforts and developments is led by our General manager Mr Liu Wen, the joint efforts of all our colleagues, the full support of partners, the sincere and the trust of our customers, so to become Gbos today! Thank you once again.
We will continue to launch more and more automatic equipments for traditional manufacturing industries, truly achieving the Machine replace worker. At present, we have owned automatic fiber laser marking machines, "V"series automatic laser cutting machines to replace traditional cutting, and our"CCD"series automatic positioning cutting machines, and so on. I like the dreams of future better than the history of the past, now we still have a long way to go.
the company could not move without innovation, we Gbos will continue to absorb the industrial high tech talents, and keep cooperating with first-class universities and research structures, to improve the core competitive, and set up the technical barriers.
We would not compete the price in the red ocean market, but finding the differentiation and creating the new value growth in the blue ocean market, and continuing to achieve the industry leading position in the market segment.
In 2014, our company successfully developed a jeans laser washing equipment. The US "Time" magazine reported that, in 2007, one of the American well known jeans brands, made an assessment for the resources to make jeans. Surprisingly, they found that the main resources is water.
Under the data of each working procedure, they discovered, 
from raw materials of cotton to cotton cloth, then to the washing processing, finally get the finished products, it needs 2.48 tons of water to make this pair of jeans, furthermore, it needs to use a lot of chemical additives, which could easily cause a huge waste of water resources and serious environmental pollution.
Our jeans laser washing equipments, replacing the traditional jeans finishing process of hand rub, sand blasting, spray monkeys, cat's whisker, water washing, stone washing, sand washing and other traditional washing process. Although no need water, the efficiency is much more higher than the traditional washing, it shorten the processing flow, improve your products additional values.
To obtain the market recognition and promote the laser washing technology, we're planning to build up a jeans laser washing technical center, to achieve the industrialization of jeans washing, to make an effort for the environmental protection.
In the future, we will put tens of thousands of jeans laser washing patterns and technology files into the cloud of computers, so that each of our customers could download them freely. We will also establish an automatic remote diagnosis system, that means we change the way of taking actions after getting the feedback from customers into receiving and diagnosis with initiative ways, which makes our after-sales much more easier and convenient.
In 2014, we successfully realized the internal business, we have set up a CNC processing center by our leaders.
To help Gbos staff get the bonus with the company's growth, within two years, we would carry out the comprehensive reform of sharing , to make sure each one of our staff could have the chance to be a boss.
Finally, I here thanks again for all the supporting Gbos staffs, suppliers, leaders and guests. I believe Gbos will become better and better with your care. Thank you very much!!
Now, let's enjoy the party!!!!