Current market situation of footwear industry
Since the outbreak of Newcastle Pneumonia, the global economy has been hit hard, and the footwear industry is also facing a huge test. Although the footwear industry in China continues to grow, reports show that global footwear consumption will decrease by an average of 22.5% in 2021, with Europe down 27%, North America down 21% and Asia down 20%. The market operating environment of the footwear industry is extremely severe, and practitioners are facing tremendous pressure and challenges.
Equipment optimization, poised for growth
In the face of unstable market growth, companies face many challenges:
On the one hand, the industry is aiming for internationalization and market globalization, and on the other hand, the traditional footwear industry is facing problems such as high labor costs and uneven quality of production. In addition, the ever-changing market demand requires companies to produce and deliver orders faster and more efficiently, putting higher demands on the shoe supply chain system.
Companies must re-examine themselves to adapt to the changing demand conditions.
For example, replacing manual labor or outdated machines with advanced equipment, thus increasing productivity and significantly improving productivity.
A way to transform your production floor into a profit center
GBOS' XXP3-180 high-speed laser marking machine brings a new solution to the footwear , enabling hollowing, marking and perforation of various shoe materials in the footwear field, empowering companies with new equipment.
For every 1% increase in production efficiency, 1% time savings can be achieved. Maximize production efficiency and create greater value.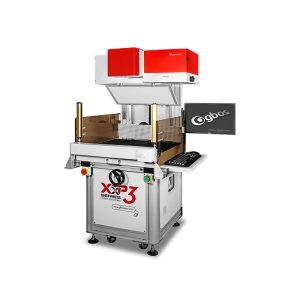 Faster speed and higher efficiency: 300 holes per second (0.2mm) is 15-20 times of ordinary marking machine, significantly improving production efficiency and meeting customer delivery requirements.
High quality marking: original optical system, fine marking effect. Significantly improve the reliability of mechanical operation, marking quality and performance.
Multifunctional all-in-one machine: punching, hollowing, marking and cutting processes are completed at once, solving the difficult problem of processing steps and helping enterprises to realize more possibilities.
Directly hit the processing pain points: processing materials do not produce yellow edges, scorched edges, production workshop without odor.
In addition to footwear manufacturing, the XXP3-180 can be applied to many industries such as garment, advertising, and automotive trim. In the future, GBOS will continue to adhere to the purpose of focusing on the needs of the industry, using innovative technology to provide customers with high-quality laser marking products and solutions to provide upgrade support for the industry.