Putian, known as the "Shoe Capital of China", has been a shoe manufacturing OEM center for international famous brands since the 1980s. After years of development, Putian has accumulated a world-class standard comparable to the shoe-making process and experience.
In recent years, many OEM shoe companies and new self-made shoe companies have made significant improvement in intelligent technology and manufacturing process.
As a representative of Putian intelligent workshop, Eastcrown (one of manufacturer of LI-NING) has built a complete "intelligent workshop" production line, which is based on IoT digital management and covers more than 20 intelligent 20 intelligent machines, including: one towing three (leather nesting machine + oscillating knife leather cutting machine), dual-head asynchronous oscillating knife digital cutter, auto line marking machine, laser marking machine, etc.
This intelligent workshop is designed to cope with the lower birth rate and the reluctance of the 90s to enter the factory of this social trend, in order to enhance the sense of well-being of employees, enhance the piece of money, digital management, to achieve cost-effective, let's take a look at the Eastcrown (one of manufacturer of LI-NING) is how to achieve this goal:
It is obviously that footwear industry is speeding up on a brand new road, constantly moving towards new heights. GBOS, as an intelligent equipment solution provider, is honored to empower Putian footwear industry! To provide the shoes enterprises to build a digital cutting center for the implementation of the landing program, Eastcrown (one of manufacturer of LI-NING) is a successful case, but also the industry trend.
In order to help more shoe enterprises to build digital cutting center, November 15-17, GBOS will participate in the Putian Footwear Industry Expo, show the footwear digital one-stop intelligent cutting + innovative process solutions, to provide more shoe enterprises with the right digital cutting center solutions.
We sincerely invite you to visit Putian Footwear Expo in Fujian, China to witness this anticipated event and feel the infinite passion for the future of the industry.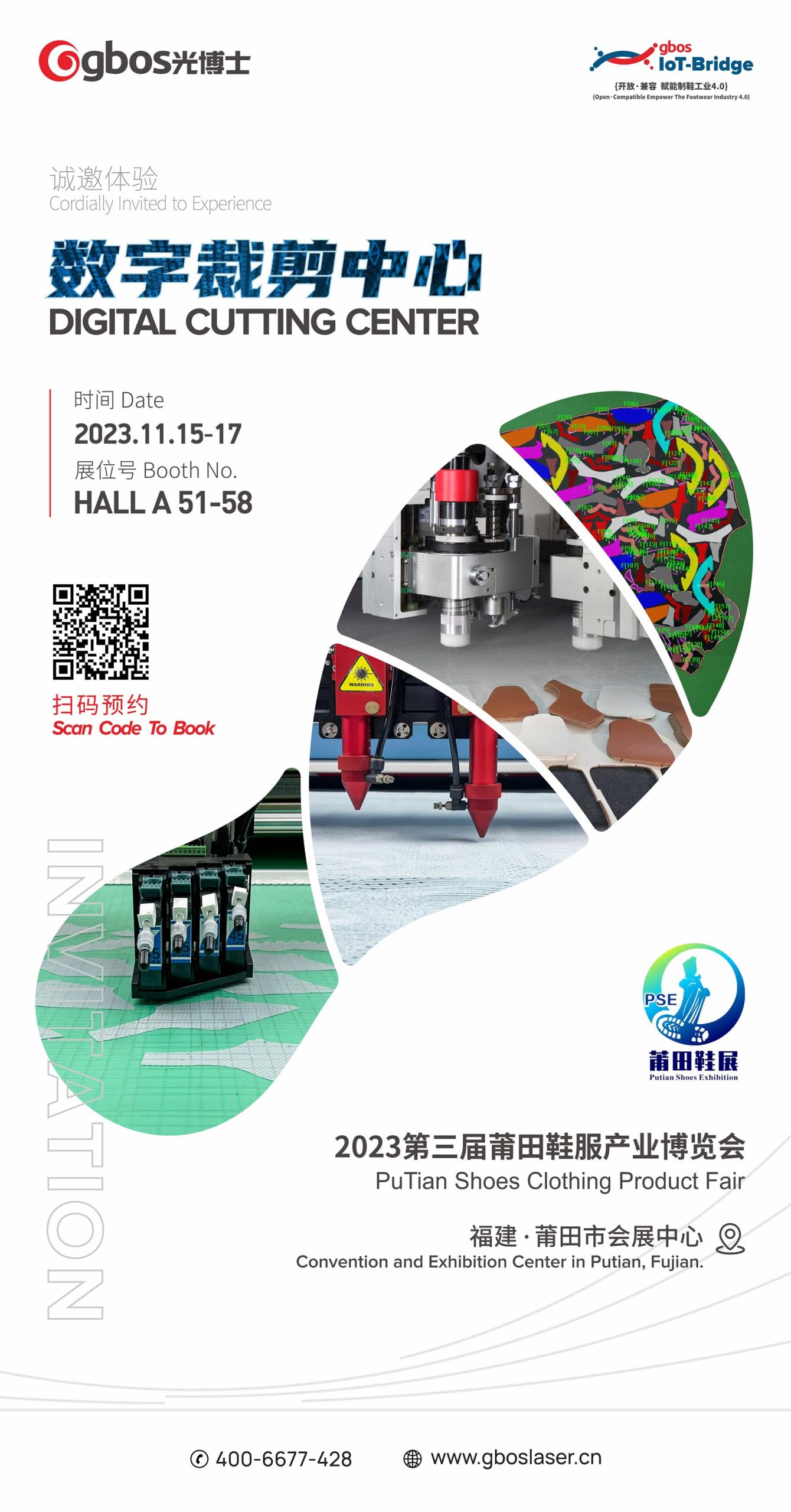 We are looking forward to meeting you, sharing more digital cutting center cases and creating more digital and intelligent workshops! Together, we will open a brand new chapter of the future of intelligent shoemaking!